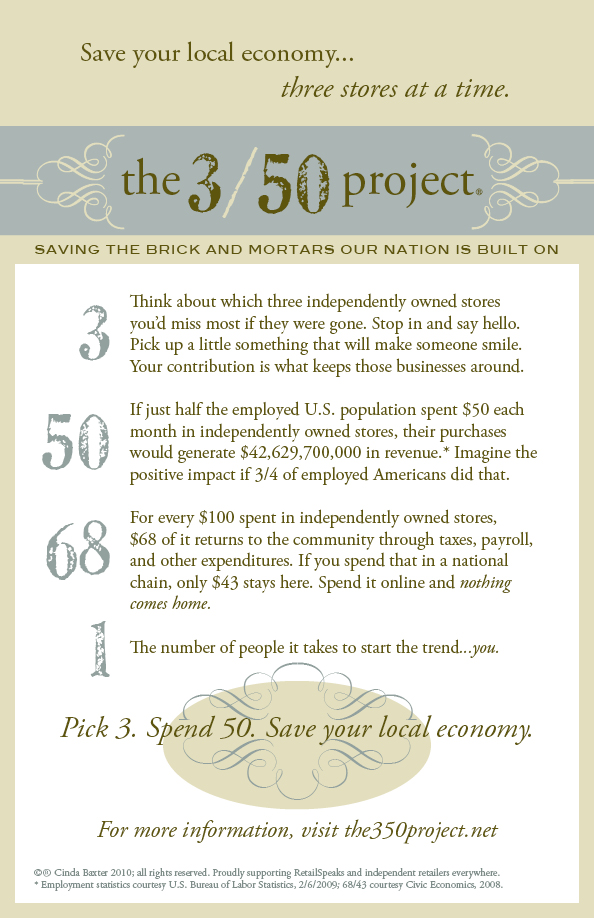 I just discovered this web site from a wonderful fellow blogger, Mrs Blandings, promoting purchasing locally to support our small, independent local merchants. I whole heatedly believe in the shop locally idea and practice this whenever possible. I shop for my design product from our area when I can (local artisans are the BEST,) we purchase the seed for our birds at the small local shop here in the Village called The Backyard Nature Company, we visit the local West Side Market every week, we get the most wonderful chocolate from our local chocolatier, Fantasy Candies, and the list goes on and on, from clothing retailers to small, independent restaurants - we support our local businesses.
To me, when we shop locally the products are more interesting, we get wonderful personal service, we make friends, and we are supporting a fellow small business person. It's all good!!
For more information on the 3/50 project click here. "Saving the brick and mortars our nation is built on" - I love it!!! And, I would love to hear about what fun and interesting things that you find when you shop locally too. Thanks!